How to avoid the coronavirus by using google hangouts
Reduce your business disruption during the COVID-19 outbreak. A step by step guide to using Google Hangouts for your business meetings.
We all now know how dangerous the new coronavirus disease 2019 (COVID-19) can be, but that shouldn't keep you from doing business as usual. If you were born before 2018, I'm certain you've heard of the technology known as video conferencing, but video conferencing can be very expensive and quite challenging when working with large groups. There are several paid video conferencing options out there, but Rather than speak to those options. I'm going to show you how you can quickly and easily set up a free video conference for as many as 100 participants.
If you are looking to maintain distance and yet still hold face-to-face meetings during the COVID-19 outbreak, I have a solution for you: Google Hangouts. Google Hangouts has been around for a while, but has never been needed as much as it is today. Below are four fast and simple steps to maintain your business meetings while you remain in the safety of your home or office.
Step 1: Set up a Google Account. If you already have one, you're already ahead of the game. If you do not, go to google.com and click on the big blue button in the top right corner. On the next page, click "Create Account" and follow the prompts.
Step 2: Create a Google Calendar Event. If you've never used Google Calendar, don't panic. Simply click on a day in Google Calendar. Once you do, you'll see a pop-up window into which you can enter your event details, but before you hit "Save," click on "More Options."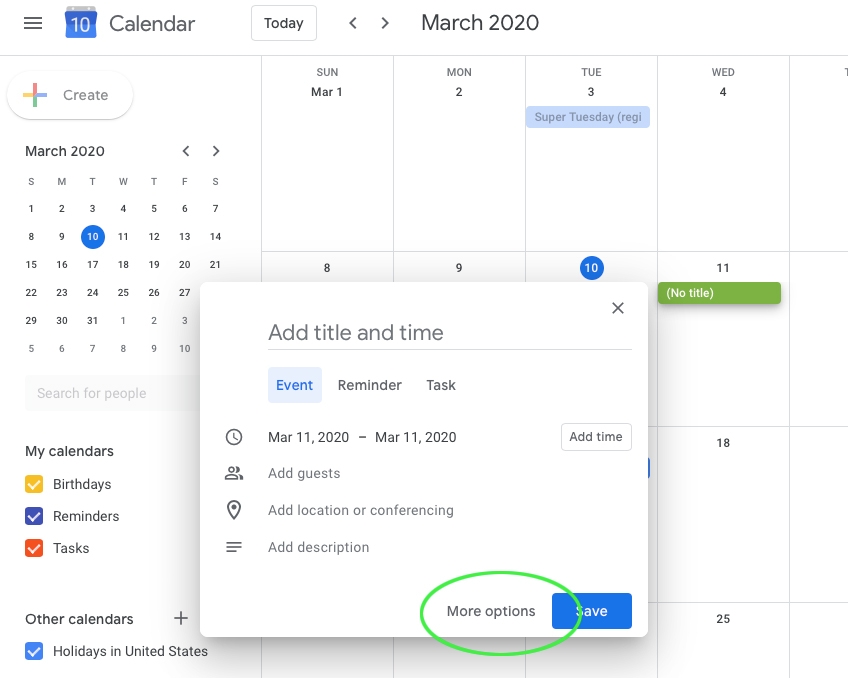 Step 3: Add Conferencing.  Click "Add Conferencing" and then choose "Hangouts."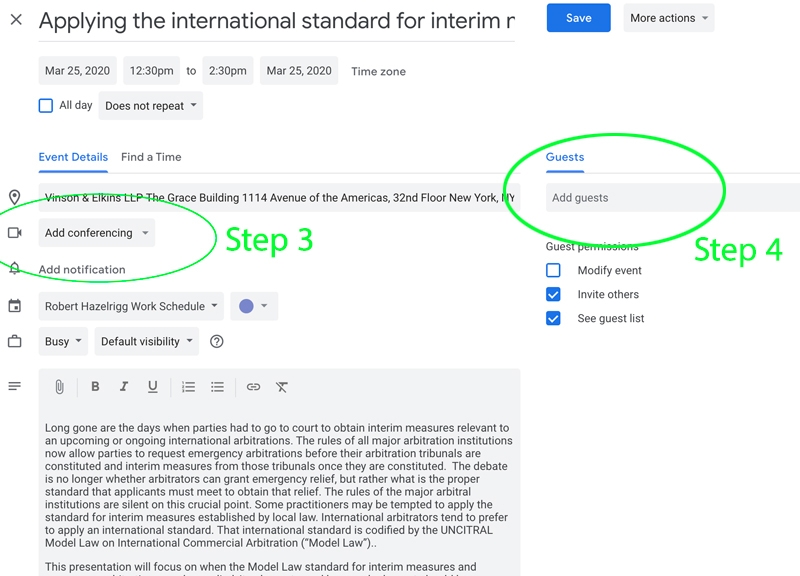 Step 4: Add Participants. You add participants to your meeting by entering their email addresses into the "Guest" field on the right side of the form. And that's it. You've set up a video conferencing meeting. Once you hit "Save," each of your guests will receive an email with the event details and a link to the video.
But wait! "How do you enter the meeting?" you say. Well, that's easy too. On the day of your event, just before your meeting is scheduled to start, go to your Google Calendar Event in the calendar, click on the event, then click on "Join Hangouts," and you're in your meeting.
Bonus: When in your meeting you'll notice in the upper right side of your browser screen there are three icons: Add A Person, a Gear where you can adjust your settings, and three dots. If you click on the three dots, you'll be presented with a few helpful tools: Share Screen lets the other attendants view what's on your computer desktop. Very handy if you have a presentation to give or show some documents during your discussion. Also, under the three dots is a Chat Option. Chat is great if you need to message the group, just remember, everyone can see the messages you send.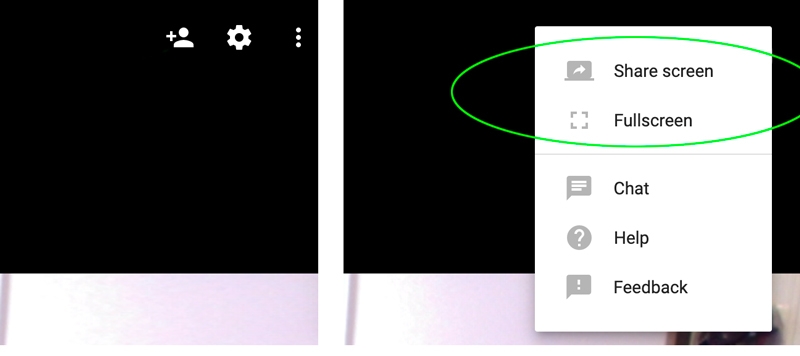 Thanks for reading my blog and Stay safe out there.