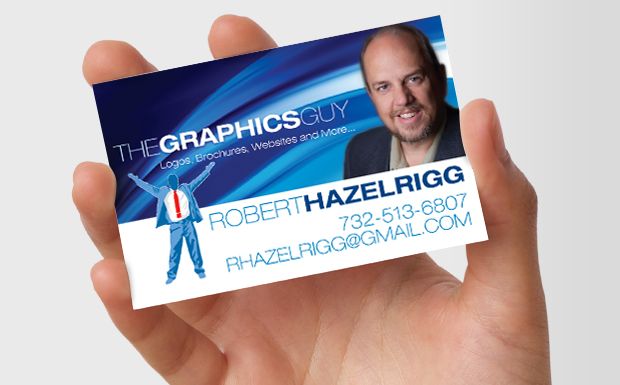 Local Graphic Artist
Hi, I'm Robert Hazelrigg also known as the Graphics Guy, and I live and work out of my home office in West Long Branch, NJ. I've been a graphic artist for more than 30 years.
Back in the late 1980s, I got my first job working for a small design studio in Red Bank, NJ. Our big client back then was Bell Telephone. It was there I learned Adobe Illustrator and Photoshop, two tools that I still use to this very day.  Graphic art was very different back then. I recall producing most of my art by hand, but times change and so has marketing.
With the advent of the desktop revolution, I  found myself working in New York City for one of the world's largest publishing companies; Cahners. I worked in the medical publishing department creating illustrations, charts, and graphs for the magazines.  I quickly rose through the ranks until I was the Senior Art Director for the flagship publication Emergency Medicine Magazine.
My career rapidly advanced after winning several design awards. In the Mid-90s I accepted a Graphic Designer position at a small but growing Ad Agency where before you know it I was once again promoted to Art Director status. There I worked on print ads, sales sheets, and packaging design.
Since then I worked for a number of ad agencies and publishing companies.  Over the years I've had the pleasure of creating art for some of the world's largest companies.
My illustrations on Band-Aid boxes have been seen in nearly every grocery store, 5 & 10, convenience or department store in North America. Moreover, The work I did for Citibank was translated into a dozen languages and displayed in 80 countries all over the world.
My artwork has appeared on TV's Sex in The City, and St. Elsewhere, in Focus Film's "Eternal Sunshine of the Spotless Mind", and countless others. There's no other feeling like driving around Ocean Twp. or watching the Olympics and seeing one of my designs.
You could say graphic art is in my blood. Both my father and his grandfather were graphic artists. The logo design to the right is a legacy project for me. In the 1970s my father designed the town seal for the Township of Ocean. Nearly 40 years later I was honored to be asked to modernize the logo which is currently being used.
I have a lot to be proud of, my work spans 30+ years and includes client work for some of the biggest corporations in the world. My art has circled the globe and won numerous awards. All of that said I don't have a swelled head. I derive my success through my client's success. If you're not happy with the work I provide for your business then I was not successful.
Today most of my clients are local businesses looking to stand out from the crowd. Companies that understand branding and understand the value that my art provides for them. Please take a few minutes to look at all of the different types of work in my portfolio: https://roberthazelrigg.com/gallery
Effective logos not only exhibit visual appeal but also successfully represent a brand. A logo's true triumph lies in its ability to instantly convey the...
read more