Learn how to maximize Google Business Profile to get your business found in Google Searches.
For the 5th time in 15+ years Google has rebranded "Google My Business" now known as "Google Business Profile".  Years ago Google launched this product as "Google Places". Places was designed to be an alternative to the yellow pages and that still holds true today, but today Google Business Profile or GBP is much more robust. GBP allows business owners to not only display their Name, Address, and Phone Number (NAP), but it allows businesses to showcase products and/or services, appear in voice searches, offer directions, answer questions, and so much more.
Why Should You Care about GBP if You Already Have a Website?
Being that 99.9% of all search occurs on google, and since GBP feeds the results for Google's Locals Searches, GBP is likely the first place your customer will encounter your business. Moreover, GBP is one of the best ways you can help your business rank higher in local searches. Businesses without a GBP generally rank very poorly so it's imperative to get on board.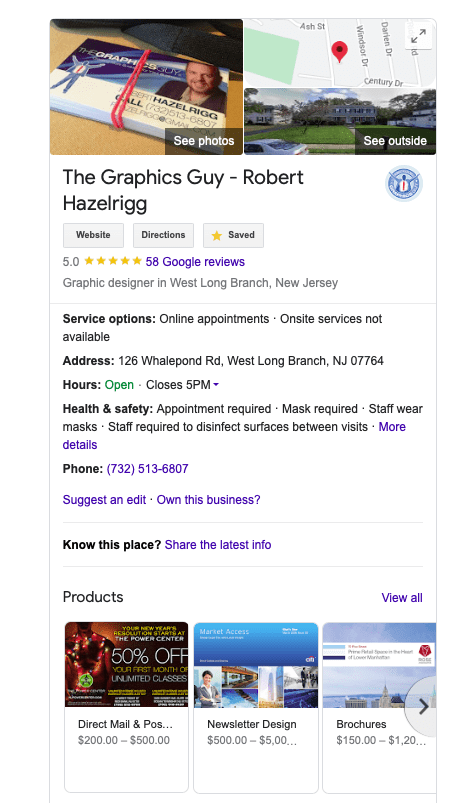 What You Should do ASAP.
If you're not sure if you already have a GBP you should go to google and search for your business name. If your business profile doesn't come up displayed like the image here on the right you'll need to go to business.google.com and set up your business profile. Note: to set up a GBP you'll need a Google account so you may need to start there prior to the setup.
If your business is displayed like the image on the right GREAT! But you may need still to claim the business. If you see the words: "Claim this business"  in the listing it means no one has claimed it yet. If you see "Own this business?", it means someone else has already claimed your business.  Either way, you should click whichever option is been presented to you to take control.  Google will then take you through the steps to verify if you are the rightful owner of the business.
Once you have control of your GBP you should head over to the info section and fill in every detail. Don't be salesy here, just stick to the facts. You'll have opportunities later for promotions, sales and etc. Make sure you include your business logo, and images of your storefront if you have them. Include interior pictures of your office, and even staff members help. People love photos, and since google wants to give the people what they want it's best practice to share as many images as you can. That said, never ever uses images that are not yours.  Don't even use royalty-free images. Google will flag your GBP page and may even remove your business from search altogether if they feel you are miss using the imagery.
How to enhance your GBP listing.
Once you've completed the info section, you'll head over to the Products and Services sections. It's imperative that you be just as detailed here and spell out everything that your business provides. You should add a short but detailed description of your services, and add pricing or price ranges for those services. You should also include photos of all of your products because those images will appear in your GBP search results.
Should you use GBP to website builder to build my website?
It's free and easy to edit. But in this case, I feel you get what you pay for here.  The GBP website builder really doesn't look nice, so unless you're a solo plumber or electrician, I would avoid using it.
What's Key to Making my GBP more Valuable than My Website?
One of the biggest key factors in getting your business found in google searches is good reviews. Again because Google is in the business of delivering good results in its search google looks to its users for feedback.  If google delivered bad businesses to the users would you continue to use Google?  So businesses with more good reviews generally outrank businesses with fewer reviews or bad reviews.
Best Practice for Getting Reviews
One thing I tend to do when I complete a project is to ask my clients to share their experiences with the world on Google or Yelp. I try to make it as easy as possible to do so as well by sharing a link to the reviews section of my GBP page: The Graphics Guy Reviews.  Every GBP page has a link you can find in your GBP home dashboard.  Note: not every review will be a 5-star review. You can't please all of the people all of the time. It's part of doing business but you should always take the time to respond to every review. It shows the world that you care even when things go wrong.
Questions Anyone?
Believe it or not, the Questions section of your GBP page also plays an important role in your ranking.  The great thing about this is you don't have to wait for a client or customer to ask you a question. GBP lets businesses write and respond to their own questions. Think of it as the FAQ section of your website. If you already have an FAQ section on your website I highly recommend you recreate it in the Questions section of GBP. This section is displayed in search results and offers users answers to their commonly asked questions.
GBP Posting
One of the most underused sections of GBP is the Posts section. This is very surprising to me since GBP posts do so much for your search results. I tell my clients if you're posting something new on your website or on social media it belongs in a GBP Post as well.  Any news, sales, promotions, events, and what have you should be posted on GBP. You can include a photo and a brief description and most importantly and link to a page on your site with a full write-up.  This practice is just like adding more keywords to your site and plays a big part in your Google ranking.
Google Business Profile is a truly powerful tool that every business should be using today, if not to showcase your products and services, to bolster your search engine results, and/or at the very least display your company's reviews. If you're not taking advantage of these amazingly powerful tools your competition is more than likely already doing so.
For more information on how to better use GBP contact Robert Hazelrigg at (732) 513-6807 Robert is your local graphic designer in West Long Branch, NJ 07764